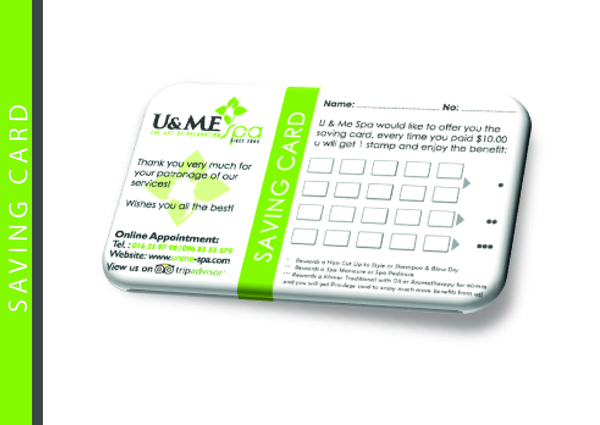 SAVING CARD
Spa SAVING CARD reward to be our members for choosing service with U&ME SPA, and you can save whenever you get spa/massage and more with us! Redeem your Points to get FREE service now! This card you can get from our receptionist for all locations. Stamp your card every time you purchased and earn rewards point to get a privilege card.
Rewards:
●Earn until * (1star) rewards a Hair Cut Up to Style or Shampoo & Blow Dry
●Earn until ** (2star) rewards a Spa Manicure or Pedicure
●Earn until *** (3star) rewards a Khmer Traditional with Oil or Aromatherapy for 60mns and you will get Privilege card to enjoy much more benefits from us!
Terms & Conditions:
● Entitled to use at all branches and very time you paid $10 you will get 1 stamp
● Please present this card when you make a payment
● This card is not transferable
● This card are subject to change with/without prior notice
GOLD PRIVILEGE CARD
As a Gold member, enjoy exclusive benefits, special gift, and much more. U&ME Spa is a boutique spa since 2005 well-known as a professional spa and wellness. Your Privilege Gold has been recognized as regular card holders and applicable for use at your convenience times at all branches.
Terms & Conditions:
● This card is entitled to special privilege
● This card is privileged of 15% discount at any location in every time using our
services from $15 up, not entitled for Packages
● Please present this card before payment
● This card is not transferable
● This card are subject to change with/without prior notice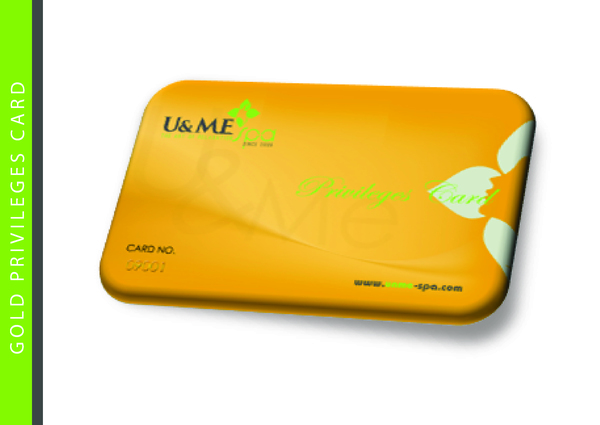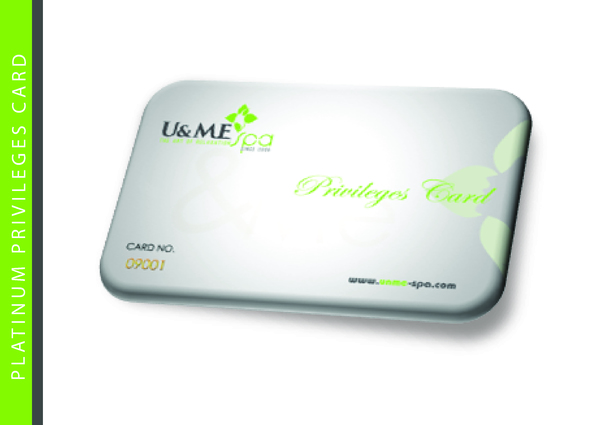 PLATINUM PRIVILEGE CARD
A Platinum card is the defining every purchasing at U&ME SPA for premium cardholders looking for excellent service and many exclusive benefits. If your passion is savoring life's pleasures, you will have confidence to this use card every time you come to get U&ME Spa & Wellness services.
Terms & Conditions:
● This card is entitled to special privilege
● This card is privileged of 20% discount at any location in every time using our
services from $15 up, not entitled for Packages
● Please present this card before payment
● This card is not transferable
● This card are subject to change with/without prior notice